Sitcoms Online; This is a trading board where I hang out.
TV Tome; where to get your episode guides
Tim's Tv Showcase; good info site with TV guide covers!
Internet movie database: the ultimate place to find info on your favorite actors, find out where else they've been.
Phill co-This is the ultimate reference site for British comedy.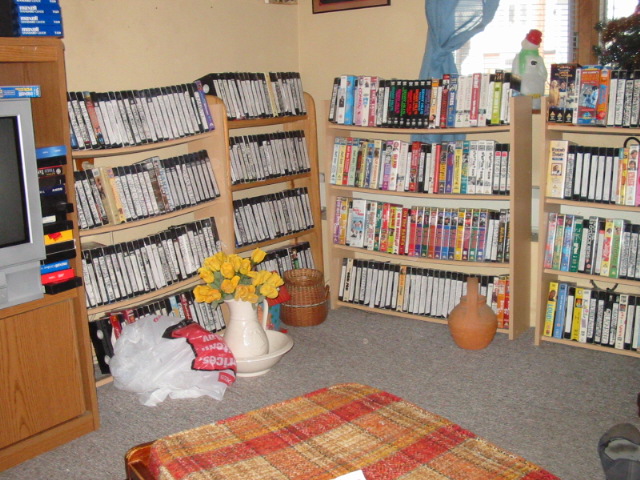 THE COLLECTION!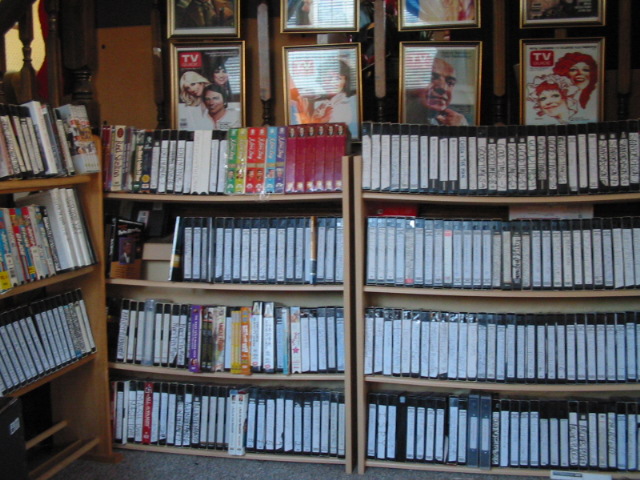 Just in:
Survivors: complete series on DVD
Happy days: four more
Hooperman: one ep
Benny Hill 30min US ep from 84
She's the sheriff: one ep Suzanne somers 88?
Carter country: one ep down south sheriff's station
Oh, madeline: Madeline Kahn one ep
Archie Bunker's Place: about 10 more
Jennifer slept here: two eps.
One Day at a time: about 40 more
Oscar Awards: segments from 80/82/84?
Best of Talk shows: rare clips from many 70's/80's show
Battle of network stars 6
Young comedians special: from HBO 85 with Rodney Dangerfield/Sam Kinison/Louis Anderson, their first appearances!
Tonight show with Carson: Robin Williams 90 and 22nd Anniversary show
Happy Birthday Bob Hope: 3 hour special from 90?
Chico and the man now near complete
CBS 75
The magic of ABC
Tonight show w/Johnny Carson: Frank sinatra (host)/Bob Hope/Letterman (host)/Kermit the Frog/Steve martin(host)/Bert Convy/Rod Hull and Emu/Barbara Mandrell (host)/Garry Shandling
Midnight special: Steve martin
Dean Martin pilot
Flying nun pilot
Fish pilot
Laugh in 6 more
Flo 1ep
Makin it 3eps
Operation petticoat 16 eps
When things were rotten 3eps
Alice near complete
69 Grammies
Jack Benny tribute
Battle of the network stars 1ep
Smothers Bros. Nancy Sinatra-Beatles and one other
80's Strikes back
NBC first 50 yrs.
Playboy after dark 1ep
Kraft music hall 1 ep
Kopykats 1 ep
Love on a rooftop 1ep
Holly wood Palace 2eps. Van Johnson, Milton berle
Elvis last concert
Merv Griffin 78 Buddy rich
Mike Douglas Frank Zappa 81
Dick Cavett George Harrison 71
Get Christie Love 1 ep
Jeffersons first ep
Girl from Uncle 4eps
70-71 Grammies
AMA 75-78
Mike Douglas: Freddie Prinze
I Spy 2 more
Dan August 1 ep
Outer Limits 20+
THE LIST!

American Television: number of episodes I have is in parenthesis.
Ancient comedy: 1948-67
Jack Benny Show 4 eps.
Burns and Allen 2 eps.
Red Skelton 20 eps.
I Love Lucy 10 eps.
Milton Berle 12 eps.
Sid Caesar compilation
Ed sullivan 30- half hour cutdowns
Honeymooners 40+ and specials A&E Bio: Jackie Gleason, 60 minutes interview, Honeymooners 50th anniversary
Jackie Gleason show 3 eps.
Abbot and Costello 4 eps.
Amos and Andy 7 eps. and documentary
Soupy Sales 2 and A&E Biography
Petticoat Junction 4 eps
Dean Martin 2 episodes; Engelbert/Dom Deluise; Barbara Feldon/Jim Brown both 1970 and Roasts; Dean Martin, Frank Sinatra, Jimmy Stewart, Bob Hope, Ronald Reagan.
Tonight Show with Johnny Carson- 3 from the 60's, 10th anniversary show 1972, one Carson club compilation.)
Jay Leno 10anniversary
Gidget 12eps
That Girl 3 eps.

Modern Comedy: 1968-03
Courtship of Eddie's Father 4 eps.
Carol Burnett 4 and reunion
Best ofHollywood palace
Smothered: Smother's Brothers doc
Uncle Floyd compilation
Laugh in: 12 uncut episodes
Flip Wilson: 10 half-hour cutdown episodes
Mary Tyler Moore 100+ and specials; TV Land Reunion and documentary, Larry King Reunion, 20th Anniversary show. Also Intimate Portrait: Mary Tyler Moore, perhaps Biography:Mary Tyler Moore, and various Tv appearances. Plus DVD extras; has promos and definitive documentary.
Odd Couple all episodes and Tv movie.
All in the Family 60+ and Anniversary plus 20+ Archie Bunker's Place
Sanford and son 100+ and E Story: Redd Foxx
Mash 20 and Reunion
Girl with something extra: 1 ep
Maude; 1 ep
Karen: 1 ep
Lotsa Luck: 1 ep
Chico and the Man 12 eps.
Good Times 36+ eps.and E True Story
Welcome Back Kotter 10 eps and EStory
Lily Tomlin special 74 (Produced by Saturday Night crew)
Rhoda: one ep with John Ritter
Happy Days: 12 eps.
Barney Miller: 75+ episodes
Fish: 2 eps.
Laverne and Shirley: 90+ eps and 2002 reunion
One Day at a time:7 episodes
Phyllis: 1 ep
Tony Randall show: 1 ep
Mary Hartman 2 eps.
S C T V (30+ eps scattered eras+Best of John Candy, A&E Bio: John Candy and Tomrrow show appearance, plus John Candy's Big City Comedy.)
What's Happening: all episodes
Alice: 15+ episodes
Blansky's Beauties: 1 ep
Three's Company:60+ eps.
Baby I'm Back: 3 ep.
Grady: 2 eps.
Sanford Arms: 4 eps.
Love Boat: one ep with John Ritter
Pink Lady 1 ep.
Facts of Life: 12 eps. (early Ringwald years)
Roller girls: 1ep
Sanford: 2 eps.
Love Sidney: 1 ep
THree's a crowd: 2 eps.
Gloria: 1 ep
Cosby Show: One episode with John Ritter and reunion.
Hooperman: 1 ep John Ritter show
Not Necessarily the News: The Best of
Jackass (all episodes + Movie with extras)
Saturday Night Live (100 complete eps from 1975-80 some early episodes with original commercials New York broadcasts. About 50+ episodes from 1980-03. Nearly complete last three seasons. Tons of specials and rare material: TVTV (John Belushi 1974 short), Groove Tube (Chevy movie), Steve Martin special 70's (with the gang), Chevy Chase special 70's, Aspen reunion. E Story: Gilda Radner, John Belushi. E Documentary on SNL, A &E Biography: Backstage with SNL, 15th Anniversary, 25th Anniversary, Best of 96-97, Best of Bad Boys, Best of Eddie Murphy, Dan Ackroyd, Phil Hartman, John Belushi, Gilda Radner, Dana Carvey, Chris Farley, Halloween, Christmas, Game Show parodies, Commercial parodies, Will Ferrell, Mother's Day. Also Andy kaufman material,, NBC documentary( the one that started it all), A&E Bio, E Story, Headliners and Legends, Carnegie Hall, Breakfast with Blassie, I'm from Hollywood, Midnight special also Joe Piscopo HBO special, Dana Carvey show ;5 episodes. )
Richard Pryor show (4 and A&E: Biography)
Dramas:
Banacek: 3+ eps
Macmillan and wife: 3+ eps
Mccloud: 3+ eps.
Waltons (Easter special)
Hawaii Five 0: 6 eps.
Star Trek 70+ eps and specials; Trekkers movie, TNN 40th Anniversary special, Captain's log.
Man from Uncle 2 eps.
I Spy 4 eps.
Mannix 4 eps.
Mission Impossible 2 eps.
Columbo 10 eps.
Rookies 10 eps.
Emergency: 10 eps.
Planet of the Apes 2 eps.
Starlost 15 eps. Canadian Sci-fi show
Kojak 40+ and A &E Biography: Telly Savalas
Six Million Dollar man; 6 eps.
Bionic woman: 2 eps.
Harry O 8 eps.
Barretta 13 eps.
Charlie's Angels 30 eps. and Tv Land special
Roots entire and Next Generations + The Gift Christmas movie
Buck Rogers 10 eps.
Battlestar Galactica 10 eps.
Space 1999 18 eps.
Highlander: The Raven 10 eps.
Farscape 50+ eps.
Charmed 10+ eps.
Cartoons:
GI JOE: Lights, Camera, Cobra/Wrong stuff/Bazooka saw a sea serpent/Cobra quake/The Mass Device/Gamesmaster/Funhouse/Satellite down/Arise Serpentor/Cobra stops the world/Rvenge of Cobra/Countdown to Zartan/The Movie
Transformers: Key to Vector Sigma/War Dawn/Heavy metal war/Insecticon Syndrome
Beavis and Butthead:all episodes (with videos) and specials
Ren and Stimpy: most of first season 10+
Fat Albert: 2 hours of shows
Superfriends: Universe of evil/Timetrap/Space Knights of camelon/Lord of middle earth/Terror at 20,000 fathoms/Planet of Oz/Trial of the SF/Terrible toys/Royal ruse/Monolith of evil/Island of lost souls/Curator/Secret origins./Shamen U/Seeds of Doom/Giants of Doom/Bizarro team/Ghost ship/Gorilla city/Darkseid Deception/Living dead/The fear/Conquerors of the future
Specials, Documentaries and Unclassable:
Sybil (Sally Field TV movie)
ET: John Ritter special
ABC Tribute John Ritter
Larry King: John Ritter Tribute
Larry King: Joyce Dewitt remembers Ritter(10minutes)
Tv Land's 40 Greatest TV themes
VH1's I Love the 70's: 1970-79
Desilu Studios History
Johnny Cash Anthology (Tv appearances)
Larry King: Johnny Cash 2003
Bob Hope's 100th Birthday special.
Frank Sinatra (5 specials)
Elvis Presley: 68 comeback
TCB (Supremes;Tempts 68)
5th dimension Travelling Sunshine show
NBC 75
That's Incredible Reunion
In Search of (70 Leonard Nimoy hosts)
Star Wars Xmas 77
Greatest Game Show Moments
Match Game (30)
Hollywood Squares (30 and E Story)
Gong show (10 and E Story : Chuck Barris)
G I Joe (20)
Beavis and Butthead (100+)
Superfriends (20)
South park(10)
Ren and Stimpy (20)
Great Sports moments ABC Wide World 80's
Oscars' Greatest Moments
Stay Tuned (from DVD great TV moments)/
Mustang ads 1964-83
Blacks in TV: Comedy episode
Biography: 1986
I Love the 80's: 80-86
E Story: Elvis in Hollywood
50 Years of ABC
Television the First 50 Years
George Carlin: You are all diseased
George Carlin: Playing with your head.
Janeane Garofalo: HBO special
Biography: George Carlin
Biography: Vincent Price
Rocky 5 special
Actor's Studio: Marty Scorcese
Louie Anderson HBO Special
E Story: Divine
E Story: Sammy Davis
E Story: Dean Martin
E Story: Jerry Lewis
E Story: Pia Zadora
E Story: Sam Kinison
Vh1's 200 Pop Culture Icons
Best of Judy Garland show
Stevie Wonder's Characters
South Bank Show: Andy Warhol
Robert DeNiro AFI tribute
Margaret Cho: HBO special
Sam Kinison Comedy Central Documentray
20/20: Robert Blake Interview from jail
Biography: Bruce Lee
Biography: Rat Pack
BTM: Saturday Night Fever
Saturday Night Fever premiere (at Mann's Chinese 1977)

British Television:
British Comedy:
The Early Years: 1950-70
The Last Goon Show of all-
Spike Milligan-2 episodes of Q from 1969, 1 from 1979; 30mins. each, plus Last Turkey in the shop 1973 X-mas special, Best of Q, This is your life 1970, and Spiked, a documentary; 60mins each.
Morecambe and Wise- Best of 1-3; 60mins. each/Live concert from mid 70's; 60mins. /2movies; 2hrs. each/76, 77 X-mas specials; 60mins. each.
Benny Hill- Biography: Benny Hill; 60mins.
Tommy Cooper- 2 episodes; 30mins. each.
Army Game- 1 episodes 30mins.
Bootsie and Snudge-1 episode; 30mins..
Comedy Classics the 1960's-
Rag Trade- 5 episodes; 30 mins. each; 1 from 60's 4 from 70's.
Sykes- 3 episodes; 30mins. each,
Dick Emery- 1 episode; 30mins.
Whacko- 1 episode; 30mins.
Peter Cook and Dudley Moore- Best of What's Left of Not only but also; 90mins, Bedazzled movie; 2hrs., plus Biography: Dudley Moore, and Saturday Night live hosts 1975.
At last the 1948 show- 1 episode; 30mins. P
Ronnie Barker: Comedy Greats compilation; 60mins. (clips from all his shows), Seven of One- 2 episodes of anthology show: Open all hours pilot, Prisoner and Escort; Porridge pilot; 30mins. each, Six Dates with Barker anthology show-Odd Job pilot with David Jason (later a movie with David Jason and Graham Chapman); 30mins..
Steptoe and Son- complete 58 episodes; 30mins. each, first movie 90mins., documentary 60mins.
Les Dawson-60 minute compilation of famous late comedian's show "Say Les". Includes John Cleese.
Dave Allen-60 minute compilation of Dave Allen At Large from 70's, 1 episode from 90's standup show; 30mins.
Till Death do us part- 6 episodes; 30mins. each.
Likely Lads- 3 episodes; 30 mins each ;Whatever happend to the Likely lads 3 episodes; 30mins. each.
All Gas and gaiters- 1 episode; 30mins.
Dustbinmen-6 episodes; 30mins each.
Father Dear Father- 7 episodes; 30mins. each.
Up Pompeii- 3 episodes; 30mins. each.
Please Sir- 3 episodes; 30mins. each. S
Dad's Army-20+ episodes; 30mins. each.
On the Buses-50+ episodes; 30mins. each.
Marty Feldman- 60 min compilation of "It's Marty" sketch show.
The Golden Age: 1970-80
Monty Python- complete 45 episodes 30mins. each + German Episodes (episodes made for German television 1972, one in German with subtitles and the other in English; 45 episodes each, How not to irritate people; early John Cleese special with Graham Chapman, Michael Palin and Tim Brooke-Taylor, contains early versions of Python sketches; 60mins., And now for something completely different, Monty Python and the Holy Grail, The Life of Brian, The Meaning of life, Hollywood Bowl movies; 90mins. each, Parrot Sketch Not included; 60 mins Best of compilation., Life of Python; documentary 60 mins., Biography: Monty Python; 2hrs. (Amazing retrospective of the group.), Aspen Comedy Festival Python reunion; 60mins., Secret Policeman's Balls (amnesty international benefit shows with a ton of British comdians) two compilations; 60 mins each., Odd Job movie (David Jason/Graham Chapman); 90mins, Yellowbeard; Graham Chapman movie 2 hrs., John Cleese on Norway; tourist film 30mins., plus Michael Palin and Eric Idle's Saturday Night Live episodes.
Doctor in the House- 6 episodes; 30mins. each, plus Doctor at Large; 6 episodes, Doctor in Charge; 5 episodes starring Richard O'Sullivan of Man about the house, Doctor on the Go; 4 episodes, Doctor at Sea; 4 episodes.
Cucumber Castle- Bee Gees special 1970; without Robin, with Spike Milligan, Frankie Howerd 60 mins.
Goodies- complete 60+ episodes; 30mins. each, and Where are they now special.
The Lovers- 3 episodes; 30mins. each.
And Mother makes three- 2 episodes; 30 mins. each.
Best of Two Ronnies-60 mins. compilation.
Last of Summer wine- complete second series, movie of first season, 3 from 90's; 30mins. each.
Are you being served- 60+ episodes; 30mins. each., plus, Funny turns: Mollie Sugden, John Inman, Wendy Richard; 30mins each. Best of Are you being served; 60mins. Are you Being served the movie; 90mins.
My wife next door- 1 episode; 30mins.
Love thy Neighbour- 2 episodes; 30 mins.
Liver Birds- 12 episodes; 30mins. each.
Some Mother's do 'ave 'em- 8 episodes; 30 mins each.
No Honestly- complete; 30 mins. each.
Man about the house- 20+ episodes; 30 mins. each.
George and Midred- 15+ episodes; 30 mins. each.
Billy Connolly- South Bank show; 60mins, Live 2002; 2hrs.
Open all hours- 20+ episodes; 30 mins each.
Porridge- complete; 30mins. each.
Rising Damp- first three series complete, 21 episodes ; 30 mins each.
Fawlty Towers- complete 12 episodes; 30 mins.
Wodehouse Playhouse- complete first series 6 episodes; 30 mins.
each.
Good Life/Good Neighbours- 20+ episodes; 30 mins each.
Selwyn Frogitt- 6 episodes; 30mins. each.
It Ain't Half hot mum- 3 episodes; 30 mins each.
Bless me Father- 10 episodes; 30 mins. each.
The Fall and Rise Reginald Perrin- first two series complete, 14 episodes; 30mins each.
Yes Minister- 7 episodes; 30mins. each.
Citizen smith- complete; 25+ episodes, 30 mins each.
Butterflies- 3 episodes; 30 mins each.
Worzel Gummidge- 12 episodes; 30 mins each.
Shelley- 2 eps; 30 mins. each.
Not the Nine o'clock news- 8 episodes; 30 mins. each.
Kenny Everett show- 60 mins. compilation
To the Manor Born- 15+ episodes, 30 minutes each.
The Modern Era: 1980-2003
Comedy Greats of 1980's-
Only When I Laugh- 1 episode; 30mins.
Never the Twain- complete first series, 7 episodes; 30 mins. each.
Only Fools and Horses- 70+ episodes; varying lengths.
A Fine Romance- 9 episodes; 30 mins each.
Young Ones- 10 episodes; 30 mins. each.
Filthy Rich and Catflap- 2 episodes; 30 mins each.
That's my boy- 2 episodes; 30mins. each.
Solo- 1 episode; 30mins.
Black Adder- complete first three series, 18 episodes; 30mins each, plus Cavalier years (Comic Relief special); 15 mins., Black Adder's Christmas Carol; 60 mins., and Back and Forth; Time travelling incarnation, Comic Relief special, 30mins. Also Rowan Atkinson live and Guide to Visual comedy, 60mins each.
A Bit of Fry and Laurie- 60 min. compilation of sketches.
Girls on Top- 2 episodes; 30mins. each.
Home to Roost- 5 episodes; 30mins each.
Alexei Sayle's stuff- 5 episodes; 30 mins each, one 90 minute compilation.
Hale and Pace- 3 episodes; 30mins each, one 60 minute compilation.
French and Saunders- 8 episodes; 30mins. each, one 60 minute compilation.
Red Dwarf- complete; 40+ episodes, plus American pilot; 30mins each, Smegups, Smegouts; 60 mins each (bloopers).
Mr. Bean- 5 episodes; 30mins each.
Lenny Henry: Live and loud- the comedian at his best; 60 mins.
Goodnight Sweetheart- 6 episodes; 30 mins. each.
Dark Ages- 1 episode.
Maid Marian and her merry men- 5 episodes; 30mins. each.
Bit of a do-3 episodes; 60 mins each.
Birds of a Feather- complete series one, 7 episodes; 30mins. each.
One foot in the Grave- 2 episodes; 30mins each.
Absolutely Fabulous- 20+ episodes; 30mins. each, plus movies, Gay (Ab Fab in New York), and The last Shout 90mins. each . Also "How to be AbFab", special and other minor specials.
Bottom- 10 episodes; 30mins.
New Statesman- 1 episodes; 30mins.
Vicar of Dibley- 10 episodes; 30mins.
Keeping Up Appearances-1 episode; 30 mins.
As time goes by- 2 episodes; 30mins each.
Coupling- 6 episodes; 30 mins.
The Boss- 1 episode; 30mins.
2 point 4 children- 1 episode; 30mins.
Father Ted- first two series complete; 17 episodes.
My Hero- 3 episodes; 30mins each.
Dad- 1 episode; 30 mins.
High Stakes- 1 episode; 30mins.
Kiss me Kate- 1 episode; 30mins.
South Bank Show: British Comedy Special- 60-minute look at all aspects of British comedy.
British Drama:
Masterpiece Theater: (British dramas that aired on Masterpiece Theater)
Six Wives of Henry VIII- complete six episodes; 90 minutes each. 1969
Upstairs Downstairs- complete five series; 50 mins each.
I Claudius- complete series, 13 episodes; 50 mins. each.
Berkeley Square- 8 episodes; 50 mins each.
Other masterpieces: (Often mistaken for Masterpiece Theaters)
Forsyte Saga-2 episodes compiled as a movie; 90mins.
Pallisers- complete first series, 8 episodes; 50mins. e
Onedin Line- first four episodes as compilation; 3hrs., next four as regular episodes; 50mins. each.
Cult dramas:
Avengers- Complete Mrs. Peel episodes (52), complete Tara King episodes (32), nearly all Mrs. Gale and Venus Smith episodes (30+), and half the Purdey episodes (12); 60mins. each One David Keel episode and only "Police Surgeon" episode which was the pre-cursor to the Avengers (with Michael Crawford as a young punk); 30mins Also 2-hour tape with This is your life: Patrick Macnee, Case of the Missing Corpse promo for colour season, Diana Rigg on Dick Cavett, and Diana Rigg "Diana" episode of her sitcom.
The War Game-
Prisoner-all episodes; 50mins each.
Callan- 3 episodes; 60 mins.
Professionals- 4 episodes and documentary. 60mins. each.
The Stone tape- 90 minute
Darling Buds of May- 3 episodes; 60mins. each.
Adv. of Sherlock Holmes- 12 episodes; 60mins each.
Sci-fi:
Dr. Who-all existing+ tons of specials
Adam Adamant- 1 episode; 50mins.
UFO- complete series, 20+ episodes; 50mins. each .
Timeslip- complete series; 28 episodes; 30mins. each.
Ace of Wands- all existing episodes, 10+; 30 mins. each.
Tomorrow people- complete series, 60+ episodes; 30 mins each.
Hitchhiker's Guide to the Galaxy- all
Sapphire and Steel- complete series 20+episodes; 30mins. each
Misc: Terry Jones Crusade/Queen and Country(complete)/Queen Mother's Funeral/Windsors: A Royal FamilyCharles King in Waiting/Bio: Tony Blair/Crown and Country/Manor House(complete)/Wimbledon finals (78,79,82,82,84,85)/ South Bank show:Britcom special/20 tapes of Spice Girls;Geri Halliwell TV appearances Early 90's to present/BBC's Most extraordinary moments
Audio : Navy lark (4)/I'm Sorry I'll Read that again (4)/Goon Show (all existing)/Dr. Who (BF's and Pescatons+ other bits).
Music Programs:
Storytellers: Johnny Cash w/Willie Nelson
Larry King: Johnny Cash (final interview!)
Larry King: Johnny Cash tribute (plus Joyce Dewitt for John Ritter)
Rock and Roll parts 1-5 (BBC)
Rock and Roll Parts 1 and 2 (Time Life) and various other episodes
Ken Burns Jazz
VH1 100 Greatest: Albums/Women/Shocking Moments/Dance Songs/TV Guide Moments
Lost Monterey footage
Elvis: That's the way it it (Original and Director's cut)
Woodstock (Director's cut, The Creation Documentary, and 4hrs of outtakes)
Message to love: Isle of Wight movie
Live Aid : 6 hrs. of footage
Concert for New York
Complete Spinal Tap (two versions of the movie and tons of extras from Dvd
Elvis on Tour 1972
Elvis Lost Performances
This is Elvis
Elvis: One Night with you (68 comeback outtakes)
Aloha from Hawaii
Weird Al TV
70's videos
Legends: Curtis Mayfield
Rolling stones Rock and Roll circus
8-track Flashback (various episodes 70's videos)
Bee Gees: Keppel Road
Jailhouse rock
Fleetwood mac: the Dance
Concerts for Kampuchea
Shania Twain special
Joni Mitchell tribute
Green Day Jaded in Chicago (Broadcast live on MTV. There is a low ceiling and Mike jumps up too far and accidentally breaks his nose.)
Girl Groups documentary
E Story Studio 54
Pink Floyd: Behind the Wall
Legends: Pink Floyd
Jethro Tull: Slipstream
Moody Blues at Red Rocks
Kinks: The Road
Weird Al: The complete Al
Legends: Curtis Mayfield
Curtis Mayfield documentary
Yes songs
Yes 90125
Rock UK (documentary on Britrock
Page Plant Unledded
Song Remains the same
E Story: Jerry Garcia
Motown 25
Motown 40
Midnight special Best of 1973
Classic Albums: Stevie Wonder's Songs in the Key of life
Supremes in Sweden
Midnight Special: Sly Stone 1974
Ozzy: Don't blame me
Various American Bandstand 30min cuts
Midnight Special Various episodes 30 min cuts
MTV's Subterranean: Earlimart hosts (alternative band)
VH1 One Hit Wonders various episodes
Children of Rock (documentary about children of rock stars, Phil Collins, Ozzy etc..
Howard Stern: Moody Blues (one complete "Channel 9" show)
Clapton/Collins tour complete show
My Generation various episodes
Atlantic Records 40 anniversary
The Queen's Jubilee British rock concert (for Elizabeth's anniversary)
New Years Rockin eve 1977
New Years rockin eve 1975 (with Chicago)
Larry King: Barry manilow
Barry Manilow Ultimate hits special
British Rock Symphony
Bee Gees Greatest Hits Live
Storytellers: Bee Gees
Metallica: Live **** special
Divas 2000: The Diana Ross disaster
Earth Wind and Fire at the Hard Rock
Green Day Raw
Doobie Bros:Listen to the Music
David Letterman: Phil Collins (complete episode)
Bee Gees Live by Request
Biography: Bee Gees
Legends: Bee Gees
Queen Live at Milton Keynes 1980
Jools Holland: Bjork (British music show)
Sugarcubes live
Biography: James Brown
It came from the 80's
South Bank show: Miles Davis
Biography: Patsy Cline
Don Kirchener's Rock Concert: various episodes
Tom Jones at Cardiff Castle
Shonen Knife movie
Shonen Knife live 12/3/93 (opening for Nirvana!)
History of Punk
The Grunge Years
Abba: four SP tapes of rare Tv appearances
Behind the Music: Phil Lynott/Grand Funk/Geri Halliwell/Carpenters/Jim Croce/Jefferson Airplane/1972/Fleetwood Mac/Joe Cocker/Doobie Bros/Styx/Studio 54/ Bob Marley/Peter tosh/Rick James/Jan and Dean/The Imagemakers/The Who/Genesis/Beach Boys/Andy Gibb/Teddy Pendergrass/Barry White/Billy Idol/Shania Twain
Nirvana: Past present and future/MTV tribute/Untold stories/MTV awards /Jonathon ross/Home movies compilation/Complete SNL appearances and rehearsal/Sonic Youth 1991 movie/Dallas Trees club (complete show)/Rhino Records 90(Complete show)/The Word/Much Music tribute/Live from MTV studios/Unsolved mysteries (Cobain)/Unplugged/Live and Loud (New years eve 93)/Live Tonight sold out/Teen Spirit
Beatles: Anthology (Dvd complete version)/John and Yoko: Year of peace/First US visit/Help/Backbeat/Magical Mystery tour/Ready Steady Go/Yellow Submarine/You Can't Do that (Hard days documentary)/A Hard Day's Night/Back in the US (McCartney)/Wingspan/Let it be/Paul Macartney Live on Fox/McCartney special/Gimme some truth (Imagine videos)/Complete Beatles/Imagine/Lennon Story (TV movie)/Wings over America/Beatles story/Get Back (McCartney)/Get Back (E Anthology special)/Paul McCartney day on VH1/Backbeat
Genesis: Opening Night 92/No Admittance 92/Behind the Music/Knebworth 90/Phil video collection/Phil rockumentary/Good morning america/Billboard awards/1976 In Concert/1973 in concert/Dallas 77/Tokyo 78/Lyceum 80/Lamb tour films/Mike douglas 77/Chester drum clinic/Bataclan 73/Shrine 75/Italian newsreels 72/Rock im park 98/VH1 Unplugged 98/Live 77 promos/Montreal 74/Midnight special 74
The Who: Quadrophenia/Behind the Music: Keith moon/Lost Monterey footage/Cleveland 75/Hyde park 96/Tanglewood 70/Charlton 74/30yrs of Maximum R and B (PBs versions)/Cow Palace 73 (complete show Moon collapses)/Essen 81/Visions of Yesterday (old rare clips)/Mercury tribute (Daltrey sings)/Kids are alright (tV versions with different stuff)/Tommy Los Angeles 89/Rareties (VH1 rare clips show)/Giants stadium 89/Farewell tour 82 (two different versions)/Tommy movie/VH1 Legends/